Testimonials
"Delighted! The fellows showed up yesterday and did a great job of taking down the old arbor and installing the new one. They were so careful, avoiding any damage to existing plants, etc., and making sure the new structure was perfectly placed. It looks just as lovely as I had hoped, and I can't wait for the footings to cure so I can finish the landscaping around the base. Thanks to you for your thoughtful advice, observations, etc., in getting this project completed. I am so appreciative of all you did to make this a success.
-Marcia T.
"Paul is a creative professional and expert landscape architect! We learned a great deal from him throughout the first phase of our project and we look forward to the next phase and having Paul and his team's help and guidance. The Ganshert Crew was great! Even throughout some of the summer's hottest and most humid days, they continued with the project at an efficient pace. The crew chief communicated with us each day making sure the project was meeting our expectations. A Ganshert Crew is a friendly, industrious, and low-disruption group. We will work with them again!"
-Richard & Barbara S.
"Thank you for the incredible job at my house; your people worked really hard on a cold day to get the job done in time. Thank you to Paul for helping correct my mistakes, and making the area square! Thank you for making it perfectly flat. And thank you for using such high-quality materials."
-Melissa B.
"We very much enjoyed working with Sean. He came up with a design that fit into our neighborhood, our goals, and followed the schedule/timeline. Most work was done while we were at work. The crew chief was very pleasant and relayed information to Sean as necessary. Our retired neighbor commented on how hard the crew worked."
-Steve & Jane C.
"In June, I experienced basement leakage on 10 of the 20 days of rain. In July, after a drainage correction by Ganshert, no more leakage. Love the window-well boxes!"
-Janice G.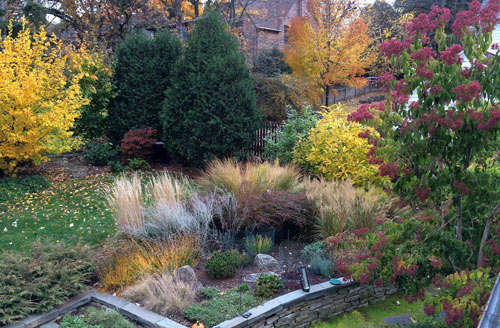 "I love working with Errin (landscape designer); she is very knowledgeable of uncommon native plants, has a good sense of design, is a hard worker, and a joy to know. The work crew she selected for the job did superb work re-doing the patio stonework – they were professional and sensitive to detail. As long as Errin is employed with Ganshert, I will continue to be a loyal customer."
-Heidi L.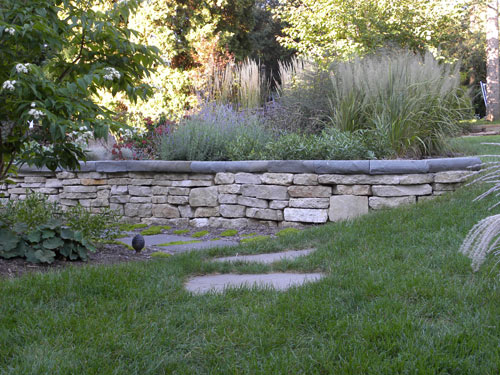 "I was very impressed with the work Matt & Jake did. Matt re-set a front bluestone walk initially installed about 20 years ago. He was meticulous with getting the grade perfect. He re-set the stone exactly the way it was laid originally (which is what I wanted). I have put this job off for a few years because I was afraid the walkway would look different than the original. It's not your typical walkway & the level of difficulty was much greater than the more commonly used pre-cut hardscape. I was quite impressed with the maturity of 20-year-old Jake who was very observant of the work Matt was doing and their work ethic. I like and value meticulous, careful work. My thanks to Matt and Jake."
-Heidi L.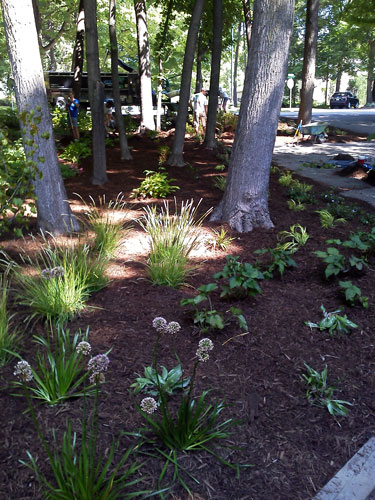 "Bonnie was our designer. We love our home now even more. Thank you for the right design for us, the woods, and the house. Thanks, too, to the crew. It's so nice to come home to our home now."
-Suzanne & Eric H.
"We had never worked with a landscaper before. This is our first planned and executed landscape. Two people stand out for their expertise and commitment – Errin and Kurt, the boulder wall builder. Errin listened to us in the planning stage, had creative ideas, was patient with us when we changed our minds and followed through on the changes. Her knowledge of plants is so great and her even temperament makes her so easy to work with and is reassuring when potential problems arise. She is thorough, dependable, showing up whenever she said she would come, plus calling to keep us informed of when work would or wouldn't be happening. I was especially impressed with her presence on installation days and placing the plants in their spots. She is great as a person and a professional.
"Kurt was here so much, he felt like family. We had no idea of what would be involved in building the extensive boulder walls – on the plan the stones looked small! We came to appreciate the artistry involved in building such walls and Kurt is a creative and preserving master. What skill he has in seeing potential in rocks and in operating the equipment to get them in place as he wants them.
"We had much less contact with the installation crew; both days they were here, we had to be gone much of the day. What did impress me was the sense of teamwork and camaraderie among the workers. You seem to have a happy crew which is a real credit to your business and enables you to do the quality work you do. Thank you."
-Stan & Colette C.
"The crew was professional and good-natured. They did a great job!"
-Michael C.
"In the past three weeks a dozen neighbors and passers-by have stopped to comment on how much they like the new landscaping. We, too, are extremely pleased. Once again, an excellent job done by Ganshert."
-Brad B.