Finishing Touches
Never content with simply great, Ganshert Nursery & Landscapes professionals understand it's often the finishing touches that beckon you back to your new space again and again. Our certified lighting specialists can help with installations from the most utilitarian to the most elegant, and we offer outdoor sound systems that allow you to listen while you enjoy the outdoors.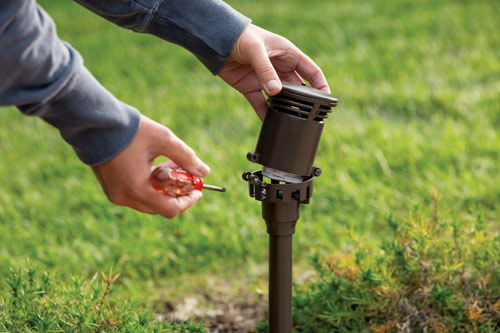 Mosquito-repellent systems are often a Wisconsin necessity, and we offer a convenient new system that provides safe, effective mosquito protection for your porch, patio or deck. The easy-to-install system is designed to mount on a deck post, railing or stake in the ground and can include LED lighting. Once installed, you simply turn on the fixtures, wait 15 minutes and your yard is protected.
Year-round Maintenance
Whether you would like regular maintenance, once-a-year touchups, or snow removal services, Ganshert Nursery & Landscapes team members deliver careful attention to detail and reliability. Since 1951 we've built our business on establishing strong customer relationships. Call us at 608.274.2443 to learn more about our services.